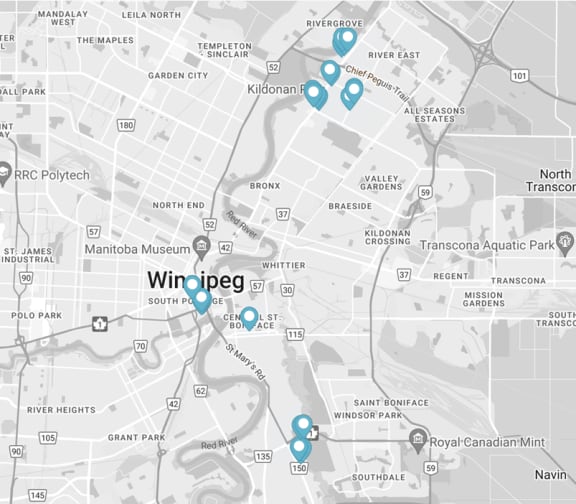 Our Purpose
To provide worry-free living and working experiences, because life is complex enough. Welcome home!
Edison Properties is your partner at home. With over 5,000 suites throughout Winnipeg ranging from cozy bachelor suites to luxurious penthouses.
We have something for everyone.
The Service
We take pride in providing exceptional service to our tenants by offering responsive in-house maintenance, clear communication, and a welcoming environment.
Amazing Amenities
Endless amenities such as pools, fitness centres, community clubs, and multipurpose spaces. Designed to cater to the diverse needs of our tenants, ensuring you have access to everything they need to live a comfortable life.
Advanced Search
We ensure a personalized apartment-hunting experience to help you find a home that suits your preferences and needs in your desired neighbourhood.
Community
We are committed to providing a welcoming environment among all staff and tenants, creating a supportive and collaborative community.
Safety and Security
We prioritize the safety and well-being of our tenants by implementing security measures and having staff on-site to ensure the buildings and living spaces are as secure as possible.
Spacious Floor Plans
We have a diverse range of buildings with various floor plans and apartment layouts, allowing tenants to find a living space that suits their unique preferences and needs.
Our History
Born and raised in Ukraine, Martin Bergen arrived in Canada in 1953 at the age of twenty-six however, this was not the beginning of his story.
In 1939, when he was only 12 years old, WWII broke out. Having already lost his father at a young age, the war years brought additional hardships to his family. Having been taken to a refugee camp and then as a P.O.W. for three years, Martin persevered and reached Montreal, then travelled by way of train to Winnipeg and his parent's home on Thanksgiving Day, 1953.
Martin worked his way up with hard work and determination, from contracting drywall and painting, to constructing apartment properties that represent, to this day, the cornerstone of Winnipeg's apartment landscape.
As current President of Edison Properties, Frank Koch-Schulte, carries on the legacy of the late Miriam and Martin Bergen of property management and development.
Testimonials
After searching numerous apartments, we came across one of Edison's beautiful apartments in the heart of North Kildonan. Not only did it have the aesthetic and functional design we were looking for, but the community to go along with it.

- Teresa, Ruth Gardens
The staff at Edison Properties has always provided friendly and professional service that we can count on.

- Teresa, Ruth Gardens
Edison Properties is truly fortunate to have so many wonderful employees on staff, thanks for being a great landlord!

- Denis, Chateau Guay
Nothing but good things to say about living here - gorgeous building, professional staff, constant security, and amazing amenities that are hard to find elsewhere like the steam room and games room which we love. Plus, being pet friendly is a huge bonus. My dog loves the dog run and I love having a pet wash station to take her to!

- Kennedy, Smith Street Lofts
I have lived in Ruth Gardens for the past few years and my experience has been lovely. I find the people who run this building are always friendly and helpful. You can always find someone in the building cleaning or repairing things. That is part of what I love about it. I have communicated several times with the Residential Manager Kasia and she is simply the best! Truly, she has such a caring heart, and is always there to listen and assist. I have kept her on her toes trust me!

- Karen, Ruth Gardens
I lived at edison at the fort Garry place and I loved the amenities included. But what put them on top of other rentals was their maintenance and being prompt with fixing issues that arise in the apartment. I also value the cleanliness.

- Manar, Fort Garry Place
After heavy investigating out of various properties associated with apartments in Winnipeg. I jumped at the opportunity with Edison properties at the Oakland Gardens.

- Oakland Gardens
I have never lived in an apartment my entire life, Watta and Gabriel deserve tremendous credit and kudos for their hard work! Please pass the words because they are extremely accommodating and always addressing questions ! Rooms are maintained very well and very clean.

- Derek,
I found 135 Niakwa Rd. to be a pleasant place to live for 8 years'. The manager, caretaker and other employees take excellent care of it. It's very clean and I like how bright the hallways and laundry room are. I always felt safe. Whenever there was anything needing fixing in my apartment it was cared for right away. As I did not have a car, I really liked being close to grocery stores, bus routes, the Y, the library. I love the rec room, the library, the seniors club the roof top garden.

- Terisa, Appleton Estates II
A truly great landlord in every way!

- Denis, Chateau Guay
A bit pricey, but absolutely worth it, specially considering: - The large number of amenities, and includes all services except TV and parking (TV you have to hire yourself, and they have parking but costs extra per month). - The staff is super friendly and helpful. - The building is pet-friendly. - Security 24/7. When I moved to Winnipeg I visited several properties looking to rent, and Smith Street Lofts was the absolute best.

- Agustín, Smith Street Lofts
Overall, I have been here for several years. I find the staff very accommodating to all aspects of living here. If I have a problem, one call to the resident manager and she is on it right away. The maintenance department staff are very professional!

- John, Fort Garry Place II
I've been living at 85 Garry for approximately 13 years. Debbie is an amazing resident manager, and an amazing lady. If she doesn't have an answer, she finds out the answer and gets back to you. I also want to thank you for having such an amazing team, from your caretaker, and all your maintenance staff they always take such great care of the residence at 85 Garry. To me, this is the best place to live and it's because of the people that work for Edison Properties.

- Kenny, 85 Gary